Choose your Kampachi Restaurants Outlets :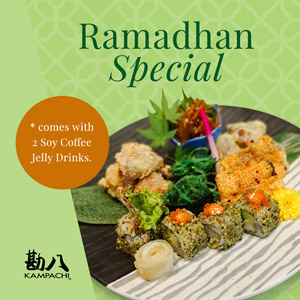 Ramadhan Special
Break fast with your loved ones with our hearty
and healthy Ramadhan Platter.
* Comes with 2 Soy Coffee Jelly Drinks
RM78 nett
Available at:
Troika , Pavilion, Plaza33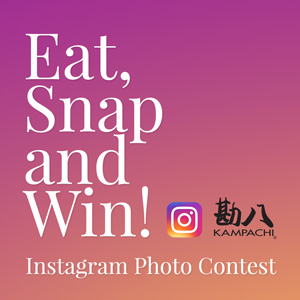 Eat, Snap and Win!
12 May – 17 June 2018
Stand a chance to win RM 100 Gift Card by sharing your most creative photo at our buffet!
How to participate:
Step 1: Follow kampachiofficial instagram account
Step 2: Snap any photo during our Kampachi Saturday or Sunday Brunch Buffet.
Step 3: #WeekendBuffetPJ, and tag @kampachiofficial
Step 4: Keep snapping and keep eating to WIN the RM100 Gift Card!

Click for Terms & Conditions.

Available at:
Plaza33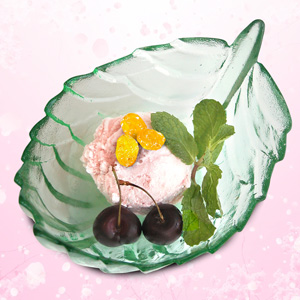 Sakura Ice Cream
Pick of the Season.
Indulge in our seasonal Sakura Ice Cream today.
Its delicate colour and flavour stems from actual cherry leaves and is sure to delight your palate.

Available at:
Troika , Pavilion, Plaza33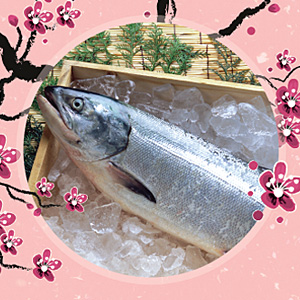 Sakura Masu
Spring Season Wild Cherry Trout Fish from Hokkaido.
Wild Cherry Trout is named after Cherry Blossom for its beautiful pink colour meat. This seasonal offering is freshly air-flown from Tsukiji Fish Market.

Sakura Masu Sashimi (5 pcs)
Raw Wild Cherry Trout Fish
RM120 nett
Sakura Masu Shioyaki
Grilled Wild Cherry Trout Fish with Salt
RM120 nett
Sakura Masu Teriyaki
Grilled Wild Cherry Trout Fish with Teriyaki Sauce
RM120 nett


Available at:
Troika , Pavilion, Plaza33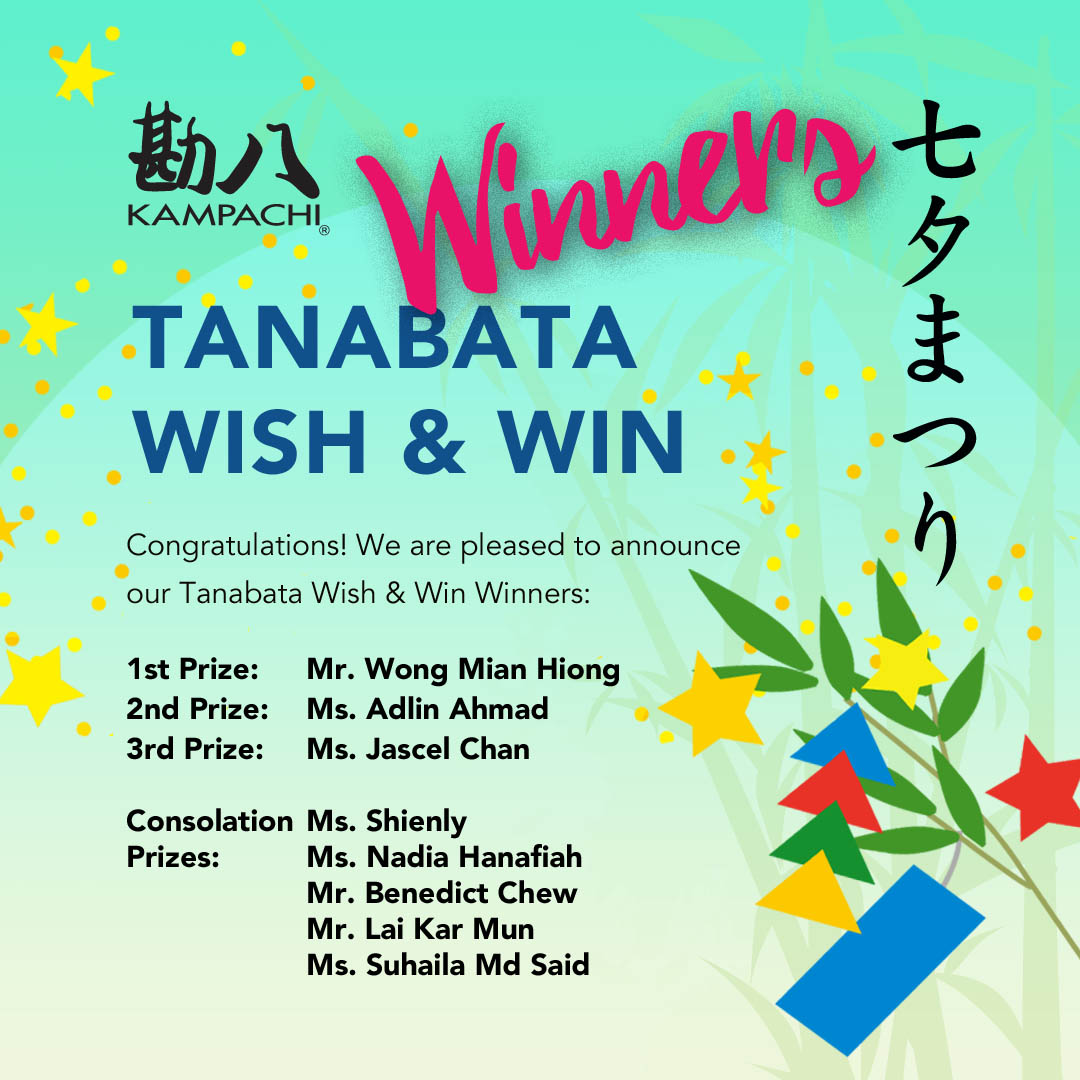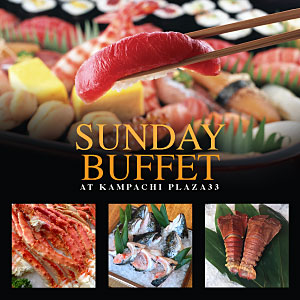 Kampachi Weekend Brunch Buffet
@ Plaza33


Enjoyable Brunch with unlimited made-to-order selections brought to your table.
Adult : RM 168 nett / pax
Children (5-10 years old) : RM 108 nett/ pax
Sunday Buffet


Scrumptious spread of buffet with additional new premium items such as: Slipper Lobsters, Snow Crabs and Salmon Heads.
Adult : RM 148 nett / pax
Children (5-10 years old) : RM 78 nett / pax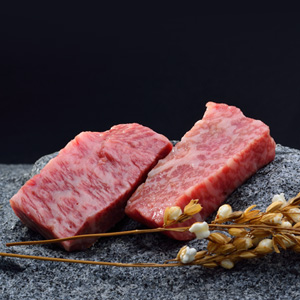 Juicy. Beefy. Perfection
.
The aroma as the snowflake-marbled beef sizzles on the Hot Lava Stone is simply irresistible. Grill every slice to perfection and highlight each with one of our chef's handcrafted sauces to bring out the full flavour.
Experience this luxurious Premium Beef Course:
5 varities of top-grade wagyu

RM 668 per pax
Available at:
Troika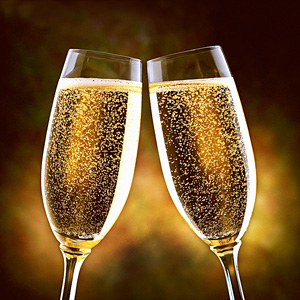 It's Always A Good Time For Champagne
RM55 onewards per glass
What better signals the start of the holiday season than the happy sound of a Champagne cork popping? Raise a glass and make a toast today with your special ones!
Available at:
Troika , Pavilion, Plaza33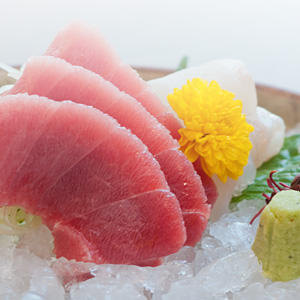 An Extraordinary Sunday Brunch Experience
The Kampachi Sunday Brunch offers a sumptuous semi-buffet featuring premium cuts of air-flown sashimi, beef and seasonal highlights to whet diners' appetite. You will love the variety and taste of this concept.
Every Sunday
12.00pm – 3.00pm

Adult: RM198
Child (ages 5–10): RM110
Reservations highly recommended.
Available at:
Troika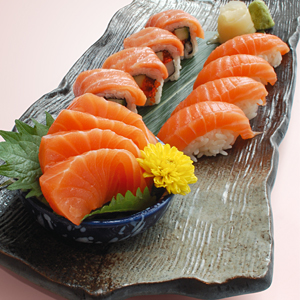 Salmon Trio
RM168 per portion
Sashimi, Sushi & Reverse Maki
4 Pieces Each
Available at:
Pavilion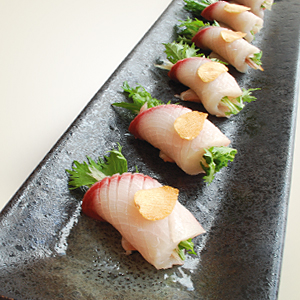 Kanpachi Carpaccio
RM178 per portion

Thinly Sliced Amberjack with Carpaccio Dressing
Available at:
Pavilion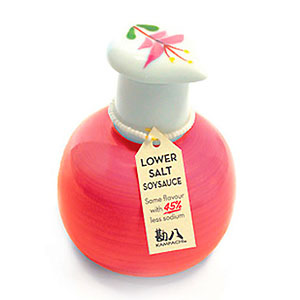 A Healthier Alternative
Customers concerned with the intake of salt will be pleased to learn that Kampachi now offers soy sauce that contains 45% less salt. Enjoy the benefits of a healthier alternative with the great taste and nutrition of our normal soy sauce. Feel free to request from our staff the next time you dine with us.
Available at::
Pavilion, Plaza33, Troika