Choose your Kampachi Restaurants Outlets :
Kanpai! with Sake Masters from Japan
国内最強! 特選日本酒飲み放題
The most exceptional Sake Event with exclusive selections of Japan's finest artisanal Sake and delectable mini-buffet for pairing.
Date: 3 August 2018
Time: 7PM
Venue: Kampachi Plaza33
Drink All You Can!
Complimentary Seat With Every Purchase Of Kanpai!2018 Series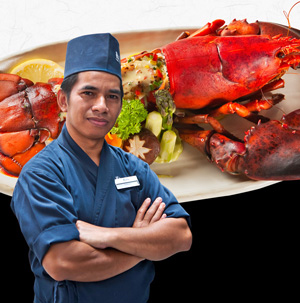 An Ultimate Enjoyment for All Senses
Watch in awe when our Teppan Master Chef Ambon performs thrilling feats of knife juggling, flambéing his palatable creation while the sizzling sound and aroma resonate with your senses.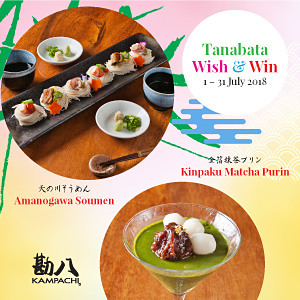 Tanabata Wish & Win

1 – 31 July 2018
七夕スペシアル
Tanabata Specialties
天の川そうめん
Amanogawa Soumen
Refreshing Japanese Vermicelli Noodles
with Cold Broth topped with Grilled Eel
and Vegetables.
RM28
金箔抹茶プリン
Kinpaku Matcha Purin
Japanese Green Tea Pudding with Azuki and Shiratama Mochi topped with Gold Flakes.
RM28
Each order of any item above entitles
you to one entry for Tanabata Wish & Win!
Available at:
Pavilion, Plaza33
The Story of Tanabata
The legend of Tanabata begins with the love story between Orihime (the daughter of the Sky King) and Hikoboshi (a cowherd), who met and fell madly in love. Spending all their time together, the two lovers forgot their responsibilities and were soon punished by the angered King who separated by the Milky Way. They were allowed to meet only once a year, on the seventh day of the seventh month in lunar calendar, which was then named Tanabata.
Japanese people celebrate Tanabata to commemorate the romantic legend, by floating lanterns on the river, and hanging their wishes on the Bamboo trees, as they believe that hopes and dreams will be fulfilled during that time.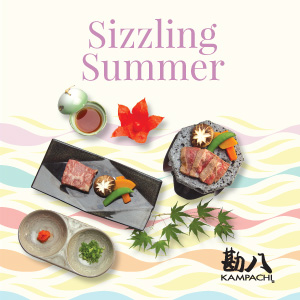 Sizzling Summer
Indulge in our specialty beef dishes prepared on Japanese Lava Stone right at your table –
cooked just the way you like it!
夏の季節限 - 和牛と野菜溶岩焼き
で夏を満喫!旬の食材もお気軽に
スタッフにお尋ねください。
和牛と野菜溶岩焼き
Wagyu & Yasai Yogan
Grilled Japanese Wagyu & Vegetables on Lava Stone served with Wasabi, Charcoal Salt & Ponzu sauce.
RM198 nett
Available at:
Troika , Pavilion, Plaza33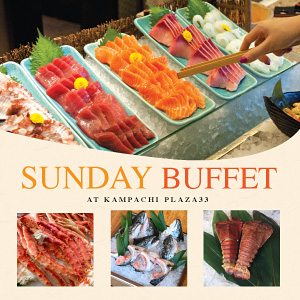 Kampachi Weekend Brunch Buffet
@ Plaza33


The renowned Buffet in town has expanded the selections with new and not-to-be-missed items!
Sunday Buffet


Scrumptious spread of buffet with additional new premium items such as: Slipper Lobsters,
Snow Crabs and Salmon Heads.
Adult : RM 139.60 nett / pax
Children (5-10 years old) : RM 73.60 nett / pax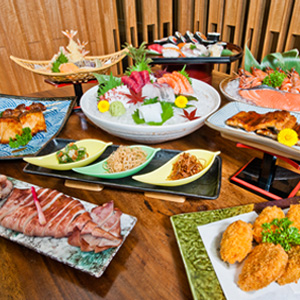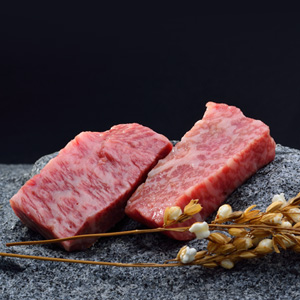 Juicy. Beefy. Perfection
.
The aroma as the snowflake-marbled beef sizzles on the Hot Lava Stone is simply irresistible. Grill every slice to perfection and highlight each with one of our chef's handcrafted sauces to bring out the full flavour.
Experience this luxurious Premium Beef Course:
5 varities of top-grade wagyu

RM 668 per pax
Available at:
Troika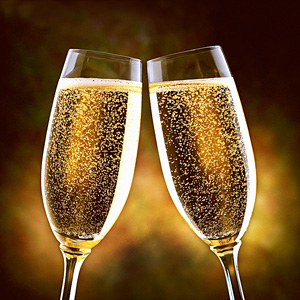 It's Always A Good Time For Champagne
RM55 onewards per glass
What better signals the start of the holiday season than the happy sound of a Champagne cork popping? Raise a glass and make a toast today with your special ones!
Available at:
Troika , Pavilion, Plaza33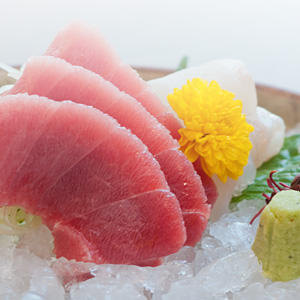 An Extraordinary Sunday Brunch Experience
The Kampachi Sunday Brunch offers a sumptuous semi-buffet featuring premium cuts of air-flown sashimi, beef and seasonal highlights to whet diners' appetite. You will love the variety and taste of this concept.
Every Sunday
12.00pm – 3.00pm

Adult: RM198
Child (ages 5–10): RM110
Reservations highly recommended.
Available at:
Troika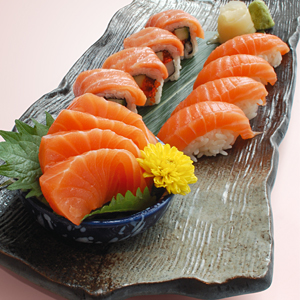 Salmon Trio
RM168 per portion
Sashimi, Sushi & Reverse Maki
4 Pieces Each
Available at:
Pavilion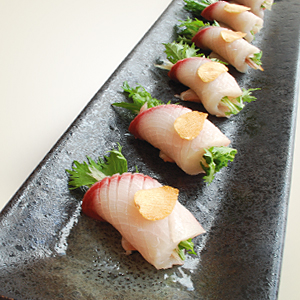 Kanpachi Carpaccio
RM178 per portion

Thinly Sliced Amberjack with Carpaccio Dressing
Available at:
Pavilion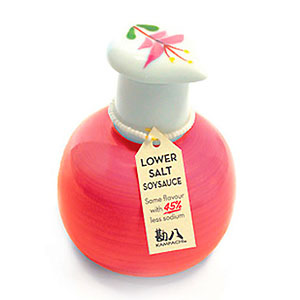 A Healthier Alternative
Customers concerned with the intake of salt will be pleased to learn that Kampachi now offers soy sauce that contains 45% less salt. Enjoy the benefits of a healthier alternative with the great taste and nutrition of our normal soy sauce. Feel free to request from our staff the next time you dine with us.
Available at::
Pavilion, Plaza33, Troika