Choose your Kampachi Restaurants Outlets :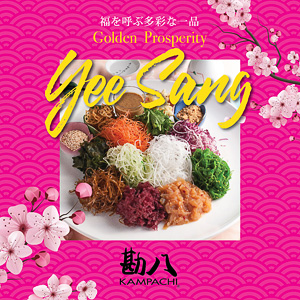 Golden Prosperity Yee Sang
21 January – 18 February 2019
Let us toss for continued health and prosperity with the authentic Japanese-style Yee Sang with a choice of Toro, Kanpachi or Salmon topping and served with Kampachi's homemade sesame sauce.

Plain Yee Sang RM 98 nett
Salmon Yee Sang RM 198 nett
Kanpachi Yee Sang RM 288 nett
Toro Yee Sang RM 468 nett
Available at:
Pavilion, Plaza33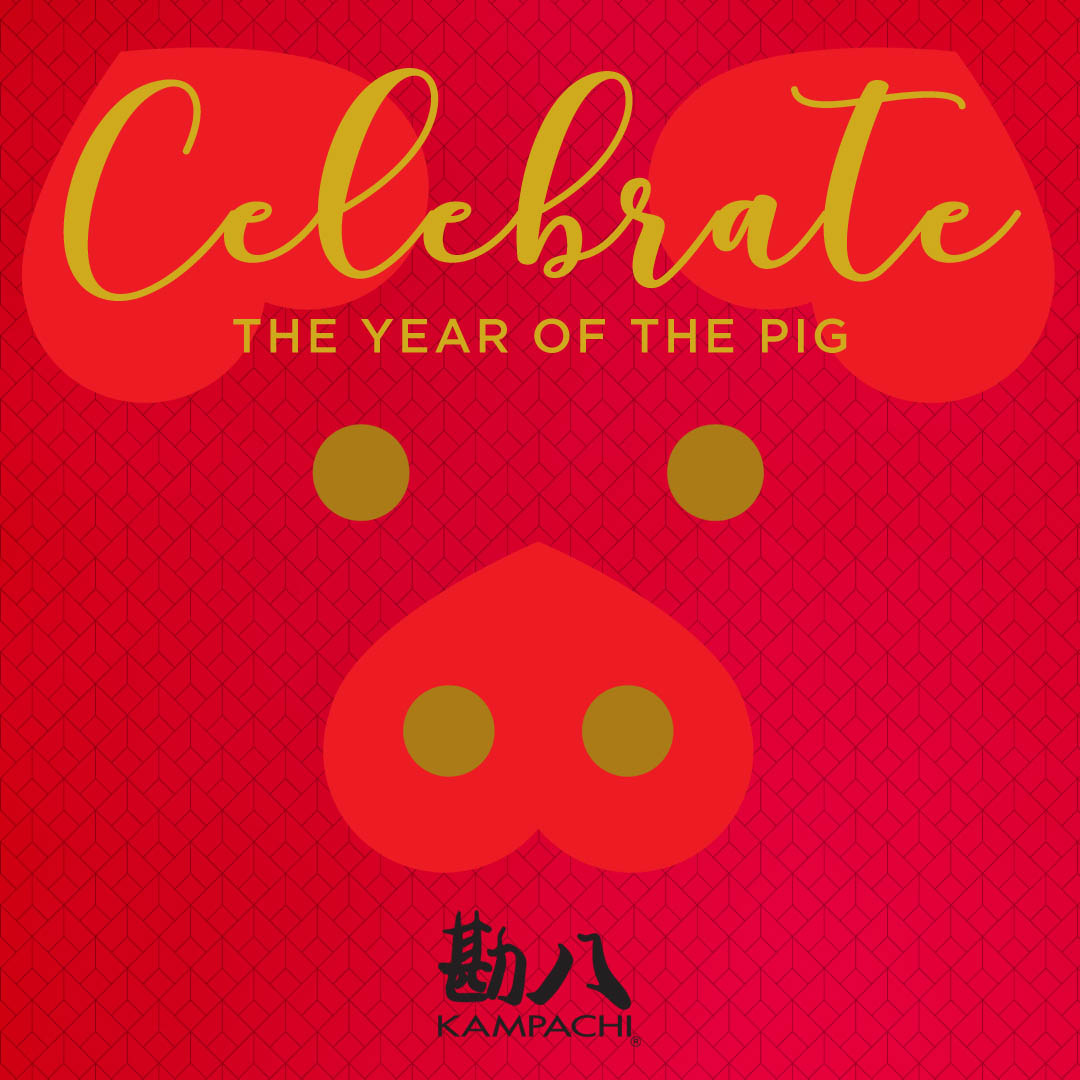 Celebrate The Year Of The Pig
Come celebrate the Year of the Pig at Kampachi and collect one complimentary Angpau packet (6pcs) with minumum spend of:
RM200 and above for [3-Little Pigs] on a single bill
RM300 and above for [Golden Pig Special Edition] on a single bill
Terms & Conditions:
• Each bill with the minimum spend entitles to one redemption only.
• Packets redeemed are not exchangeable.
• This promotion is on first come first serve basis while stock lasts.
Kampachi Restaurants Sdn Bhd reserves the right to amend the T&C without prior notice.
Available at:
Pavilion, Plaza33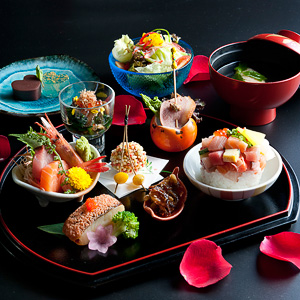 Love is in the Kaiseki
Couple Kaiseki that includes 2 sets of Appetisers, Salad, Prawn coated with Arare, Sashimi 3 kinds, Grilled Halibut with Mentai, Smoked Duck with Mustard, Mini Chirashi Don, Clear Soup of Prawn Paste and Sweet Heart Jelly.
RM288 nett per pair

* Early bird booking before 7th February 2019 will receive a special gift!
Available at:
Pavilion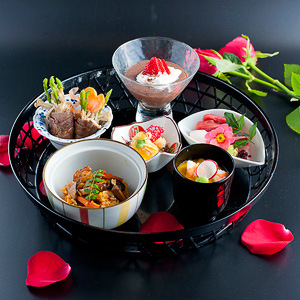 Love is in the Hanakago
Japanese-style Flower Basket of special curated dishes:
Salmon, Amberjack & Tuna Sashimi, Beef-Enoki Roll, Snow Crab Meat with Vinegared Jelly,
Traditional Mixed Rice, Pumpkin Soup with Prawn, and Silky Chocolate Mousse.
RM150 nett
* Early bird booking before 7th February 2019 will receive a special gift!
Available at:
Plaza33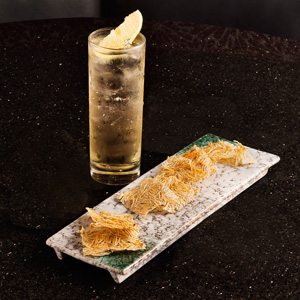 Highball & Tatami Iwashi
Discover the next level of aroma and flavour with the pairing of Nikka Highball and Japanese's all-time favorite Tatami Iwashi.
RM55 per set
Available at:
Pavilion, Plaza33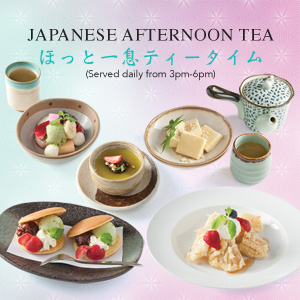 Japanese Afternoon Tea
Served daily from 3pm-6pm
Relax and recharge your day with our teatime treat!

Japanese Anmitsu
あんみつ
Japanese Mixed Sweet Delights with Choices of Houjicha or Matcha Ice-Cream.
RM 28
Dorayaki Ice Cream Sandwich
どら焼きアイスサンド
Dorayaki filled with Matcha Ice-Cream and Fruits.
RM 26
Dorayaki Maple Vanilla
どら焼きメープルバニラ
Crispy Dorayaki with Vanilla Ice-Cream, Banana and Strawberries.
RM 26
Tonyu Kibi Mochi
豆乳きび餅
Soy Bean Milk Curd with Brown Sugar.
RM 18
Tonyu Pudding
豆乳プリン
Soy Bean Pudding with Coconut Milk and Green Tea Syrup topped with Azuki.
RM 20
Available at:
Pavilion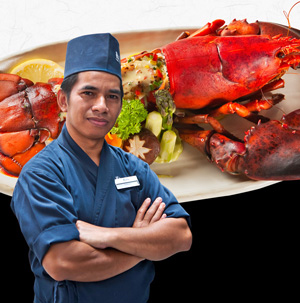 An Ultimate Enjoyment for All Senses
Watch in awe when our Teppan Master Chef Ambon performs thrilling feats of knife juggling, flambéing his palatable creation while the sizzling sound and aroma resonate with your senses.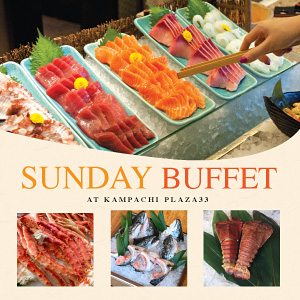 Kampachi Weekend Brunch Buffet
@ Plaza33


The renowned Buffet in town has expanded the selections with new and not-to-be-missed items!
Sunday Buffet


Scrumptious spread of buffet with additional new premium items such as: Slipper Lobsters,
Snow Crabs and Salmon Heads.
Adult : RM 148 nett / pax
Children (5-10 years old) : RM 78 nett / pax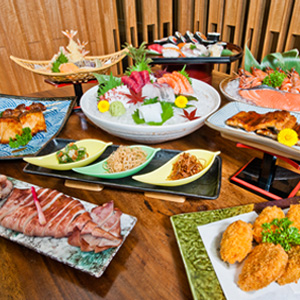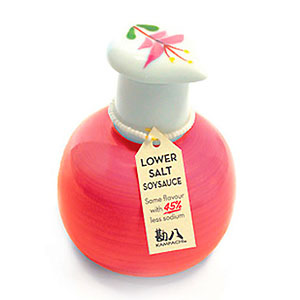 A Healthier Alternative
Customers concerned with the intake of salt will be pleased to learn that Kampachi now offers soy sauce that contains 45% less salt. Enjoy the benefits of a healthier alternative with the great taste and nutrition of our normal soy sauce. Feel free to request from our staff the next time you dine with us.
Available at::
Pavilion, Plaza33