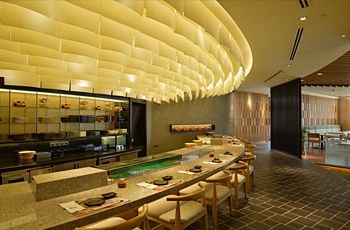 Plaza33

P1-02, Level 1 Podium, Plaza 33,
No. 1 Jalan Kemajuan,
Seksyen 13,
46200 Petaling Jaya,
Malaysia.
Tel: +60 3 7931 6938
Fax: +60 3 7931 8294
Email: kampachi-plaza33@equatorial.com

Daily
Restaurant/Bar
Monday – Saturday Lunch
12.00pm – 3.00pm
Monday – Sunday Dinner
6.00pm – 10.00pm (Bar: 11.00pm)
Japanese Buffet

Every Saturday, Sunday and Public Holidays
12.00pm – 2.30pm
• Last order 30 minutes before closing time
The latest addition of Kampachi at the highly successful Jaya33 mixed development hub in Petaling Jaya. Boasting a seating capacity of 198 persons, the new Kampachi features a stylish bar with several unique seating "pods" that can be rotated for privacy.